Organization of SUN
HOME
Introduction
Organization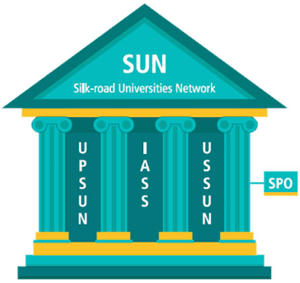 UPSUN United Presidents of the Silk-Road Universities Network
A body composed of presidents, rectors, and chancellors of universities located along the land and maritime Silk Road to serve for authorizing and institutionalizing the academic, cultural, athletic, and philanthropic initiatives of SUN.
IASS International Association for Silk Road Studies
An international academic network for professors and researchers who recognize and seek to illuminate the historical value and cultural virtue of the Silk Road and are willing to collaborate in establishing a new concept for the Silk Road and Silk Road studies as an independent academic field.
President of IASS 2020
Professor Mahmut Ertan Gökman Ankara University, Turkey
Former Presidents of IASS
Dr. Bing Lin Zheng Director, Dunhuang Research Institute of Lanzhou University, China (2016)
Dr. German Kim Director, Center for Korean Studies in Al-Farabi Kazakh National University, Kazakhstan (2017)
Dr. Su-il Jeong Korea Institute of Civilizational Exchanges, Korea (2018)
Professor Irina Kraeva Rector, Moscow State Linguistic University, Russia (2019)
USSUN United Studentsof the Silk-Road Universities Network
A body of students representing each member university of SUN to serve as a generator of new dreams and ambitions in order to keep SUN young and lively. The body also serves as volunteers for providing assistance and relief work in disaster-affected regions by making use of their individual knowledge talent and skills.
President of USSUN 2020
Former Presidents of USSUN
Nurzhamal Shabazova Kazakh Institute of Management , KIMEP University, Kazakhstan (2016)
Ahro Choi Hankuk University of Foreign Studies, Korea (2017)
Mr. Acilan Onur Student of Ankara University, Turkey (2018)
Ms. Marzieh Maddahi Student of Allameh Tabataba'i University, Iran (2019)
SPO Silkroadia Philharmonic Orchestra
This organization was established in order to profoundly capture the mission of SUN: restoring the beauty of cultural diversities along the Silk Road in perfect harmony.
Governance of SUN
Chairman of the General Assembly and Board President
Dr. Inchul Kim President of Hankuk University of Foreign Studies(HUFS), Korea
Honorary Chairperson
Mr. Cheol Woo Lee Governor of Gyeongsangbuk-do Province, Korea
Secretary General
Dr. Sungdon Hwang Professor, HUFS
Treasurer
Dr. Taeyoung Kim Professor, HUFS
Auditor
Professor Rohullah Bayat, Vice Chancellor of Imam Khomeini International University, Iran
Dr. Sunju Kwak, Professor, HUFS