Secretary General's Message
HOME
Introduction
Secretary General's Message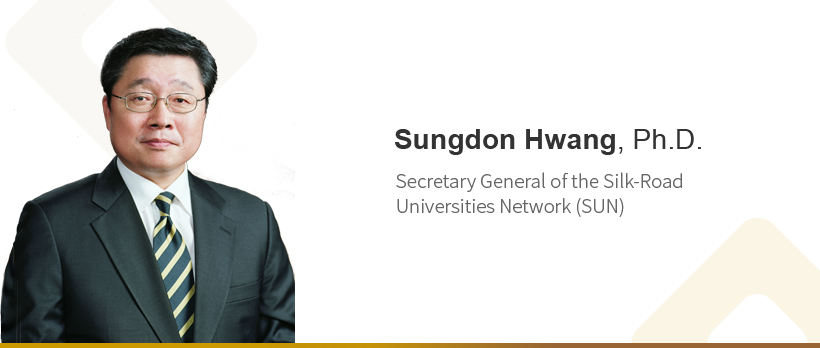 Thank and welcome you for your visit to the website of SUN (Silk Road Universities Network).
It's almost 4 years since the SUN was established, and there have been many changes. The membership of 32 universities when launched in Gyeong-ju has grown to 78 universities. Over the years, diverse programs have become sustainable international ones.
As many member universities are eager to host the annual general assembly, it has been held in diverse universities and countries in the Silk Roads. A greatly encouraging fact is that hosting universities of the annual general assembly up to the year of 2021 have been unanimously decided at the general assembly held in Ca' Foscari University of Venice last year: This year's assembly is scheduled to be held in September at Al-Farabi Kazakh National University, Almaty, Kazakhstan; the assembly in 2020 at Ankara University, Turkey; that in 2021 at National University of Mongolia, Ulaanbaatar. I am happy in that this attests to the SUN's taking on a more international aspect.
SUN has consistently organized and supported Silk-Road studies. Ever since the launch of International Association for Silk-Road Studies (IASS) at the first General Assembly, an international academic conference and an academic general assembly have been held annually at diverse places including Korea, China, Vietnam and etc. They are scheduled to be held at Moscow State Linguistic University in September, this year. In order to make this academic conference be more international, eminent professors from member universities in the Silk Roads have taken turns to serve as presidents. Besides the diverse academic conferences, SUN has supported the 5-year-project involving many mapmaking experts from diverse universities to make a widely usable Silk-Road map free of political, ideological, and cultural prejudice.
It has consistently provided diverse programs for students, the hope of the future in realizing the peace in the Silk Roads. They consist of cultural events and Silk Road expeditions and are intended to give students opportunity to realize how beautiful and precious the cultural diversity of the Silk Roads is so that they can grow up as global citizens, who can be considerate towards and respect other minority cultures. As for the cultural events, there are Photo Contest of SUN (PHOCOS), Writing Contest of SUN (WRICOS), and the Silkroadia Philharmonic Orchestra, and a new event, Silk Road Film Festival (SRFF), will be offered this year. As for the expeditions, the expedition to 3 nations in Central Asia (Kazakhstan, Kyrgyzstan, and Uzbekistan) has been offered and a month-long voyage of Maritime Silk Road Expedition sailing from Korea, stopping over in Philippines, Malaysia, Thailand, and Cambodia, and arriving in Vietnam was successful. Expedition participants were enchanted by the beauty and grandeur of the history, culture, people, and nature in the Silk Roads. The expeditions for all members, professors, students, and university staff will go on so that they can see all parts of the Silk Roads.
Our organization's international profile gets higher and higher. SUN was introduced to leaders and internationally-renowned experts from diverse countries at the UNESCO conference and the general assembly of UNAOC(UN Alliance of Civilizations), won their interests, positive responses, and support. Selected by International Institute of Education (IIE) as an innovative educational case that can change the basic education paradigm for the next 100 years, SUN was introduced in the institution's special edition celebrating the centenary of its founding.
SUN is a thoroughly international organization. It doesn't belong to a nation and a university. It is an international network that relies upon participations and activities of diverse nations and universities. It is not sustainable without your interest, support, cooperation, and participation. Each one of you is very important for the organization. I earnestly ask you to surf and enjoy the SUN's remodeled website, and listen attentively to your suggestions and requests.
February. 16, 2019.
In the Russian high speed train, Sapsan heading for Moscow
after the visit to invite St. Petersberg State University as a new member…
looking out the train window reflecting the vast snowy, foggy field …
Sungdon Hwang, Ph.D.
Secretary General of the Silk-Road Universities Network (SUN)
& Professor, Hankuk University of Foreign Studies, Seoul, Korea